Lao Cai to promote tourism events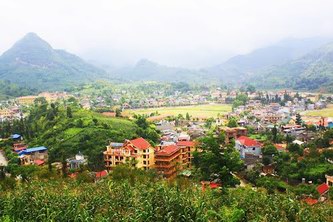 At the Trade Hotel in Hanoi, the Lao Cai Department of Culture - Sports and Tourism held a press conference to announce the typical cultural events, sports and tourism activities in Lao Cai province in 2015, of which Sapa adventures plays an important part.

Mr Vu Xuan Cuong, Deputy Chairman of Lao Cai people's committee chaired the conference. Attending the conference were leaders of Vietnam National Administration of Tourism, the news agencies, the press and representatives of reputable travel agencies in the country.

At the press conference, Mr Tran Huu Son, director of the Lao Cai Department of Culture - Sports and Tourism has introduced natural beauty, culture and tradition, the historical richness of Lao Cai with tour companies operating in vietnam and the media. With its natural beauty and good travel organization, in 2014, Lao Cai welcomed 1.5 million tourists to Lao Cai and Sapa train travel.

At the press conference, Lao Cai has published five typical tourist events in 2015. That is Lao Cai market in Hanoi and Thuong Temple Festival associated with a series of spiritual tourism activities in Lao Cai city. Organization of Cultural Tourism Week in SaPa, from 30th April to 1st May , promote tourism image of SaPa to visitors. traditional horse racing in Bac Ha district, to introduce and promote the image Bac Ha tourism and eastern districts of the province. International Marathon over the mountains of Sapa in 2015, to create focal points for Lao Cai tourism through international sport tourism events. the organization of Responsible Tourism Racing in Lao Cai, a sport event under the new stretch of road to expand travel space and create opportunities to promote tourism.

Representatives of the travel companies and reporters of the press agencies contributed ideas for the organization of tourism activities and events in order to make Lao Cai tourism more attractive.
Related information