Lao Cai highway shortens Sapa travel time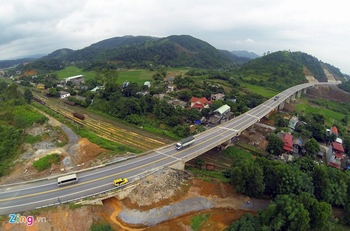 Sapa travel is a popular tourist destination in Lao Cai province in northwestern Vietnam. It used to take tourists 12 hours to go from Hanoi to Sapa by car or train. Now it takes just three and a half hours on the new Noi Bai-Lao Cai highway.

The 245 km Noi Bai-Lao Cai highway goes through Hanoi and four provinces - Vinh Phuc, Phu Tho, Yen Bai and Lao Cai. Commissioned in September, 2014, this highway is the widest and most modern in Vietnam. It will help tourists explore the beauty of Sapa and Vietnam's northwestern region.
Going by car from Hanoi to Sapa, tourists can enjoy beautiful landscapes with green hills and fertile fields along the road. The new highway has 4 lanes going through hills and mountains. The peaceful scenery and fresh air inspire tourists to Sapa. Nguyen Hai is a tourist from Hanoi: "Previously, I was very worried about going on the zigzag roads to the northwest. Now, the road is easy and I feel really comfortable going from Hanoi to Sapa. The landscape along both sides of the road is beautiful".

Shortening the time of traveling to Sapa, tourists have more time to discover the nature and people in the northwest. Nguyen Hong Thang, Director of the Sunline Travel Company says the number of tourists has increased since the inauguration of the Noi Bai-Lao Cai highway: "This road provides easy access to six provinces of the northwest. Previously, tourists usually took a night train to Sapa because they could sleep and arrive at Lao Cai in the morning. From there, they could go to Sapa by car. The highway makes things easier and offers more choices for tourists. It allows tourists to go to several areas in the northwestern region".

The inauguration of the highway gave a boost to regional tourism. Le Anh Dai is Director of Binh Minh International Tourism Company in Lao Cai: "Since the inauguration of the highway, the number of tourists to Lao Cai has increased sharply. Most hotel rooms in Sapa are fully booked. Hotels and restaurants in Sapa have upgraded their parking. Art performances are held regularly to attract tourists".

Rising almost 2000 meters above sea level, Sapa is nicknamed "the city of fog". Its beautiful landscapes and culturally diverse ethnic minority groups make Sapa one of the most popular tourist attractions in Vietnam.
Related information